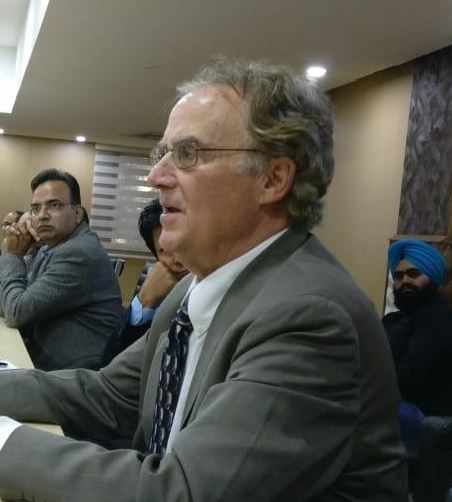 William B. DeOreo, Bill, was born in Cleveland Ohio in 1948. After graduating from Boston University with a Biology degree, he moved to Colorado in 1972, the year of the almost Olympics. He lived and worked on the West Slope as a surveyor and engineer. (He surveyed the route for I-70 over Vail Pass). He was married in Carbondale in 1976 to his one and only wife, Paula. He has three grown children, with three grandchildren and counting. In 1974 and 1978 he received engineering degrees from the University of Colorado in Boulder in Environmental Engineering, and since then has worked mainly on water and energy problems in Colorado the United States and several countries around the world.
He recently visited India on behalf of the U. S. State Department as part of its visiting expert program to discuss water problems with Indian colleagues. Bill and his family have lived in Boulder HD 10 since 1976 . Bill was registered as a Democrat until the response of the Democratic Party to the Covid crisis forced him to rethink his affiliation. Simply put, the Democratic party from top to bottom has not only forced mandates, lockdowns, business closures and unprecedented intrusion into our lives, but it has seemed to relish the job, while wrapping itself in the mantle of "science".
Bill has been an active participant in local affairs. He has served on two citizen advisory boards: the Open Space Board of Trustees and the Water Resources Advisory Board. Each were 5 year terms and he completed both terms. Bill wants to represent the people of HD 10 in the Colorado Legislature because he has specific items on which he wants to work. He believes that in the current atmosphere of fear, uncertainty and doubt that state government needs to take a more active role, including stepping between the overreach of the Federal government and the Citizens.